Contact Elevated Living for Quality Outdoor
Fireplace Design & Installation
An outdoor fireplace does more than elevate your home's curb appeal. It extends the length of time for enjoying your outdoor living space. Just imagine the stories and memories shared gathered around your custom outdoor fireplace. From design to installation, our family-friendly professionals will help make your outdoor fireplace dreams come true. Contact us to get started on your Johnson County landscape project today.
Outdoor Fireplace Designs
An outdoor fireplace will take your outdoor living space to the next level. From sharing stories and reminiscing with friends to relaxing with a good book, an outdoor fireplace in your backyard will make the ideal spot for these and many more memories. Our expert landscape designers will work with you to create an outdoor fireplace that complements your Leawood landscape and makes the most of your property's potential. Whether you already have a fireplace design in mind or need a turn-key solution, our landscaping professionals can help with your outdoor fireplace project.
Benefits of Partnering with Elevated Living for Your Outdoor Fireplace
We are dedicated to creating outdoor spaces that you and your family can enjoy for years to come. Trusting Elevated Living for your outdoor fireplace design and installation provides you with top-quality work done right the first time and a commitment to your satisfaction. 
We put you first and listen to your outdoor living goals

Elevate your home's curb appeal

Long-lasting ten-year warranty on all hardscape elements for peace of mind after installation 

Transparent communication throughout the project, from initial contact to after completion. 

Partner with a professional team who truly cares about your satisfaction and landscape 

Years of industry experience combined with extensive knowledge of our Leawood outdoors

Support a landscape company that gives back to the community through our partnership with Folds of Honor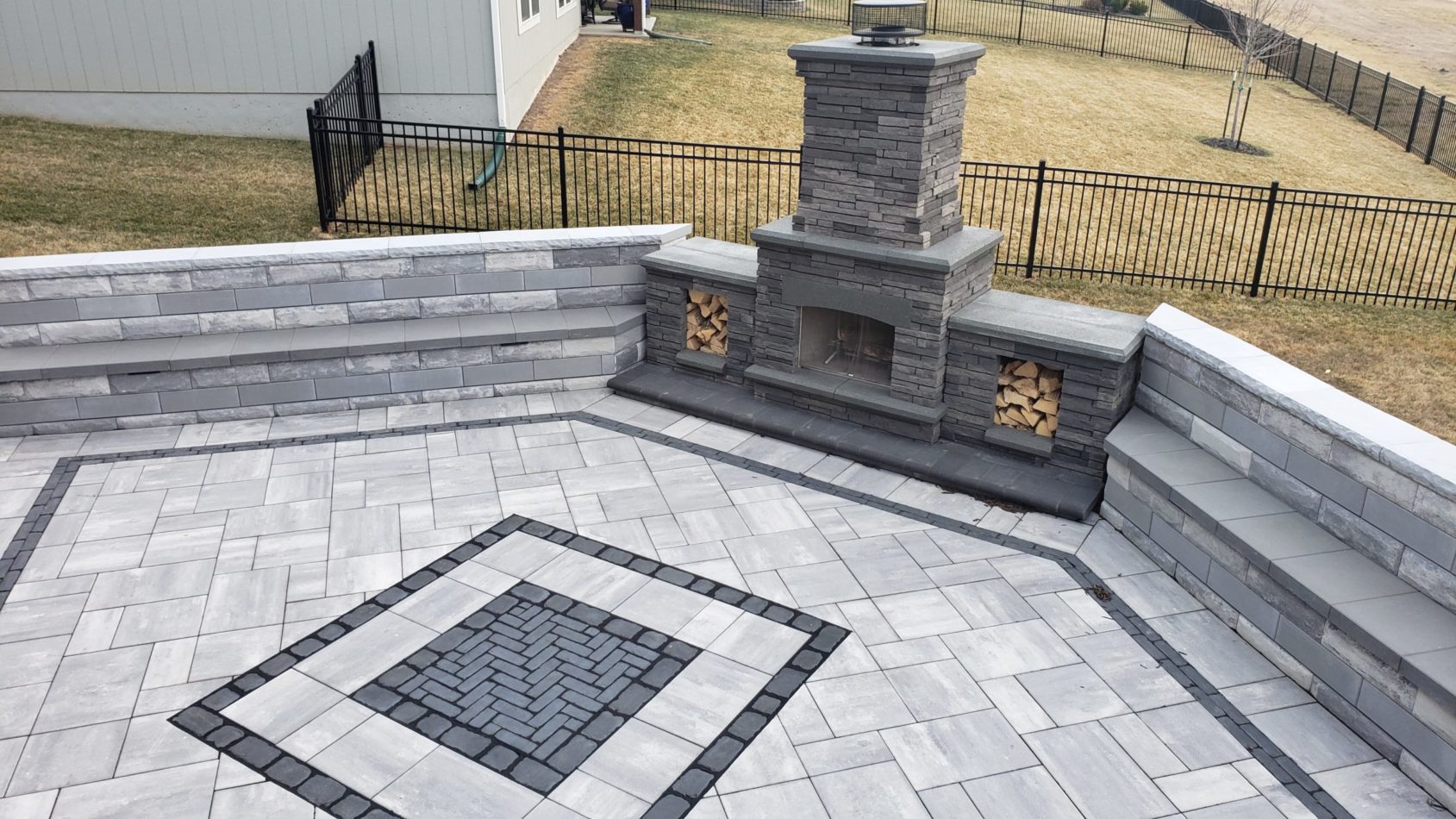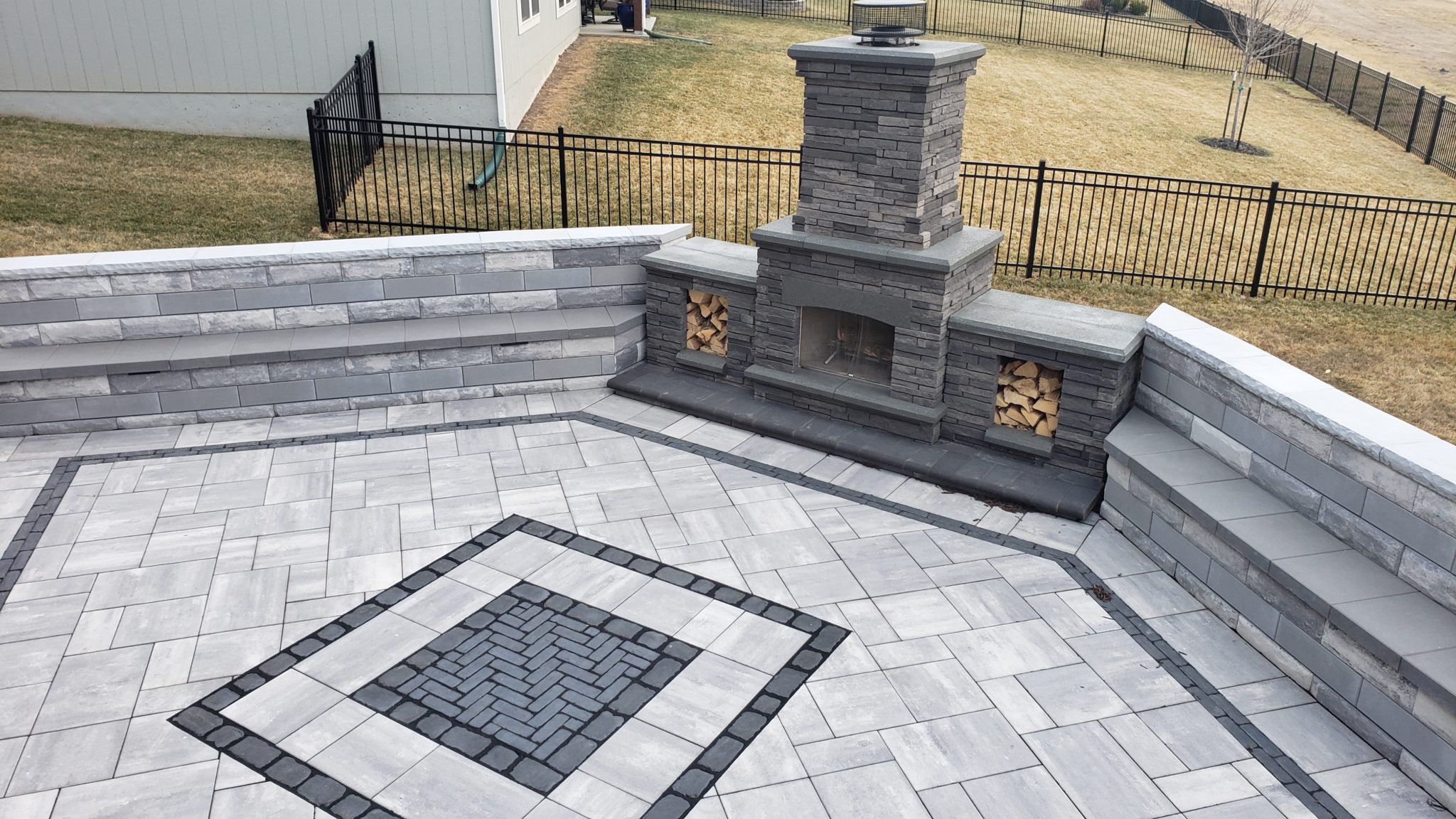 Elevating Leawood Landscapes
View our portfolio of recent outdoor fireplaces and other outdoor living area projects to see proof of our quality work across Johnson County, Kansas. Find inspiration for your landscaping project, and we'll work with you to create an outdoor fireplace that fits with your unique landscape.
Other Services provided by Elevated Living
In addition to outdoor lighting installations, Elevated Living offers a wide range of services for enhancing our environments.
Drainage and Erosion Control
Drainage and erosion is a constant struggle for the Olathe community. Our erosion control experts will determine the best solutions to ensure your property drains effectively and help your landscape continue looking its best.
Our irrigation specialists can help solve your drainage issues with customized irrigation designs and installations that benefit the long-term health of your Leawood Kansas landscape.

Besides outdoor fireplaces, we offer other ways to create a more usable and appealing outdoor space.
Premier Landscaping Services in Johnson County, Kansas
learn more about the areas we serve.
Elevated Living is proud to provide landscaping services in the following areas: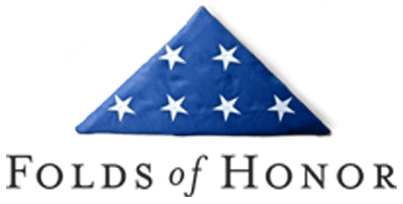 Partner with Our Professionals to Elevate Your Landscape
At Elevated Living, we're committed to three things: our outdoors, our customers, and our community. This emphasis on quality and service has led to a rock-solid reputation and satisfied customers throughout Johnson County.
Read more real reviews from our customers to hear how we're exceeding their expectations and helping them own their outdoors through our landscaping services.
elevate your job, elevate your life
If you have a passion for the outdoors, an eye for detail, and a commitment to our local landscapes, we want to hear from you. Contact us to see current opportunities with our team.