Meet the Founder and CEO of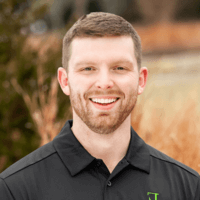 A Kansas native, Parker Whitney started his first landscaping business as a ten-year-old mowing lawns around Wichita. Years later, he turned that childhood passion into a degree in Landscape Design from Kansas State University. He's been in the industry for twelve years now and continues to bring the same energy and love of the outdoors to every job with Elevated Living. When he isn't working with clients across Johnson County to elevate their landscapes, he's enjoying his own outdoors with his Newfoundland, Haas, or traveling to find new inspiration for his landscape designs.
Get to Know Our Team of Landscaping Professionals
Our employees each bring a diverse blend of background and skills to the Elevated Living team. Together, we're raising the bar for landscaping in Johnson County and putting our passion for the outdoors to work for you.
Adam Humphrey, Production Manager
Originally from Nebraska, Adam's two biggest loves have been with him since high school: his wife, Shawna, and working in the outdoors. He now brings 14 years of industry experience to the Elevated Living team and a particular expertise in irrigation and drainage. When he's not helping others get more out of their outdoors, he's passing on his love of nature to their two kids, Parker and Emma.
Marc Renfro, Landscape Designer
Having grown up in rural Kansas, working outdoors is a way of life for Marc. He combines a horticulture degree from Kansas State University with seven years of experience as a landscape designer transforming our clients' outdoors into more livable spaces. Even when he isn't working on a landscape, though, you'll likely find him outside, whether hunting, at a sporting event, or spending time with his wife, Rachel, and their dog.
Sammy Beck, Office Administrator
After living in Georgia and Arizona, Sammy is a proud Kansan by choice. She brings a background in creative writing to the Elevated Living team, where she stands behind our mission of giving back to the community we're fortunate enough to call home. Her love of the outdoors comes out most while camping, a hobby that has taken her and her fiancé to national parks across the country.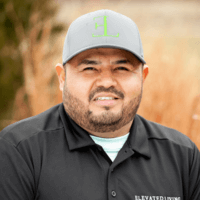 Rogelio Franco, Landscape Specialist
Originally from Mexico, Rogelio and his family are now enjoying all that the Kansas City area has to offer. His passion for working outdoors led him to Elevated Living, where he keeps the team in good spirits with his jokes. Outside of work, you'll likely find him with his family or letting loose on the drums.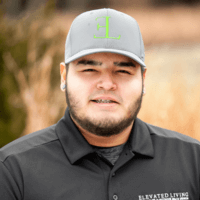 Juan Manuel Franco, Landscape Specialist
A lifelong Kansas City native, Juan is intimately familiar with our region's landscapes and natural beauty. He enhances that through his own original landscape designs with Elevated Living. Landscaping isn't his only creative outlet, though—he's also a music lover and plays instruments ranging from drums to saxophone to acoustic guitar and more.
James Cronkhite, Landscape Specialist
A diehard outdoorsman, landscaping work is yet another way for James to enjoy the fresh air and earth around us. When he isn't helping clients own their outdoors, you'll likely find him going even further into nature to hunt or fish.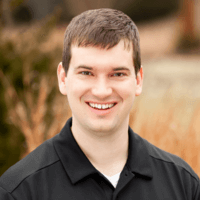 Tyler has been in the business world since he began working for his family's company in Texas at ten years old. Since then, he's earned his economics degree from Texas A&M and has worked as a financial advisor. Today, he, his wife, and their child are proud to call the Kansas City area home, where he takes advantage of the concert scene, college football, and—of course—our wealth of outdoor beauty.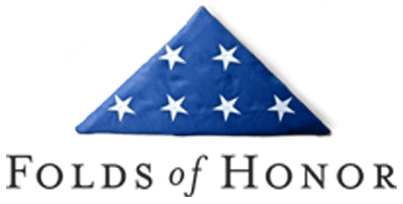 Partner with Our Professionals to Elevate Your Landscape
At Elevated Living, we're committed to three things: our outdoors, our customers, and our community. This emphasis on quality and service has led to a rock-solid reputation and satisfied customers throughout Johnson County.
Read more real reviews from our customers to hear how we're exceeding their expectations and helping them own their outdoors through our landscaping services.
Providing Landscape Designer Services in Johnson County, Kansas
Learn more about the areas we serve.
Elevated Living is proud to provide landscaping services in the following areas:

elevate your job elevate your life
If you have a passion for the outdoors, an eye for detail, and a commitment to our local landscapes, we want to hear from you. Check out our careers page to see current opportunities with our team.
Enlist Our Team Today and
Start Owning Your Outdoors
Reap the benefits of a team of passionate landscape professionals who are committed to putting our customers and our community first. Schedule a consultation today and discover what Elevated Living can do for you.